A Natale fai un regalo dell'altro mondo
Smashbox è una delle aziende di cosmetici più amate e conosciute al mondo. Con palette, primer, illuminanti, rossetti e vari accessori tra cui pennelli e struccanti, il make-up non è mai stato così semplice e luminoso.
La nuova collaborazione con Jessica Weymouth, artista che crea illustrazioni con l'uso dell'acquerello, vi porta in alto, fino a raggiungere le stelle.
Ispirata dagli spazi celesti, dai cicli lunari e dagli elementi naturali, il suo lavoro è descritto come Dreamscape Surrealism. Jessica è affascinata dal modo in cui Madre Natura può influenzarci sia fisicamente che emotivamente e, oltre ad essere un'artista, vuole aiutare le donne che, come lei, hanno una vocazione, un sogno da perseguire.
L' Holiday Collection 2019 di Smashbox incarna la sua estetica e ci porta in un'altra dimensione.
Una collezione che punta alle stelle
Cosmic Celebration 2019 è una collezione ispirata al cosmo che permette a tutte le amanti del make-up di creare look stellari e unici per queste vacanze.
Ogni set, in edizione limitata, contiene i bestseller di Smashbox racchiusi in un pack dal design esclusivo:
3-Palette Shooting Star Set
Un set esclusivo: Cover Shot Palette Nova, Cover Shot Palette Minimalist e Star Bright Cheek Palette.
Si parte con due full-size Cover Shot Palette composte da otto ombretti altamente pigmentati in una vasta gamma di tonalità e finish, ispirati alle tendenze dello Smashbox studio di Los Angeles.
E non è finita. Puoi aggiungere dimensioni e definizione con la Star Bright Cheek Palette Limited Edition, un kit travel-friendly compatto composto da un super-bendable blush, un illuminante e un bronzer.
Always On Lunar Liquid Lip Set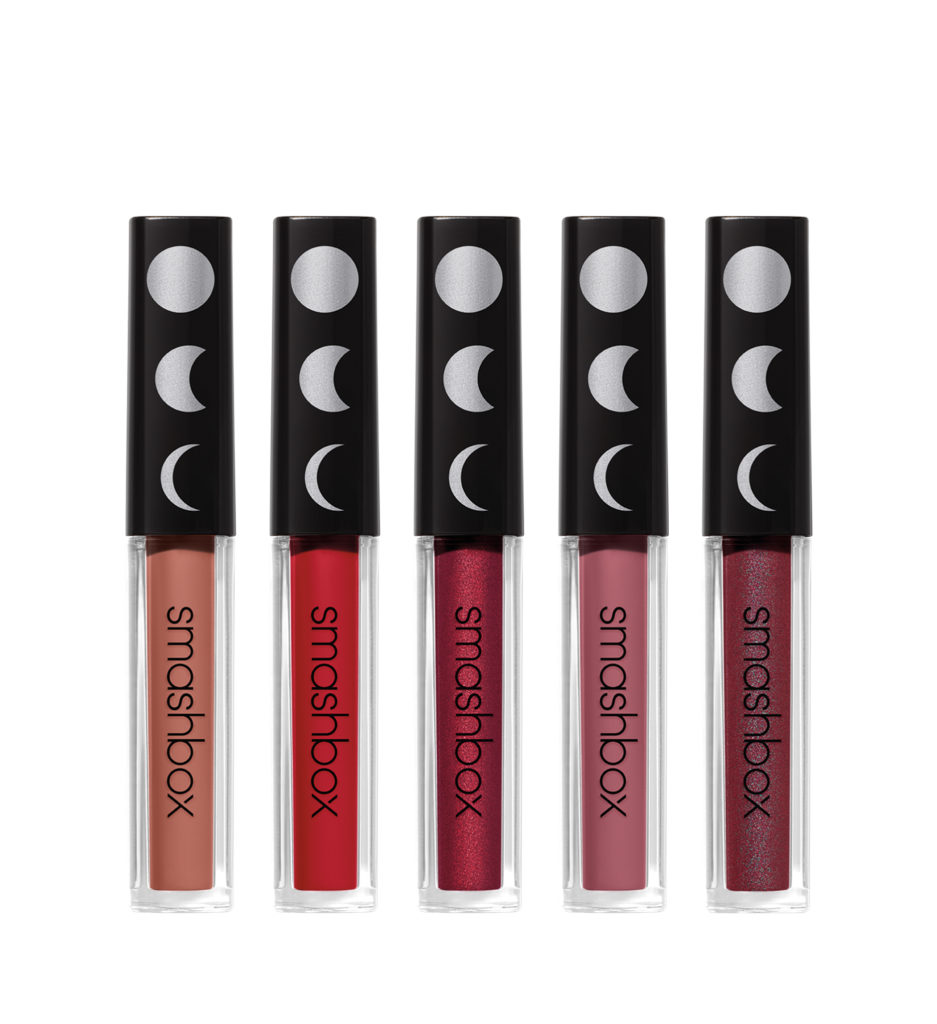 Set di cinque rossetti liquidi Always On Matte nel formato travel-size: Stepping Out (Deep Nude), Bawse (Deep Red), Vino Noir (Burgundy and Red Pearl), Spoiler Alert (Cool Mauve) e Damnethyst (Cool Metallic Fig).
Un mix per tutti i gusti con tonalità opache e metalliche che regalano a ogni look un tocco di colore davvero cosmico.
La formula confortevole e resistente all'acqua dura fino a otto ore senza rovinarsi, creare sbavature o seccarsi. Ogni colore è infuso con Primer Oil Complex per una maggiore resistenza.
Usa l'applicatore con la punta di precisione per delineare e riempire le labbra, lasciando una finitura opaca e vellutata.
Photo Finish Star Primer Set
Come avere una pelle perfetta? Con il trio di primer più venduti in formato travel.
Ogni set include: Original Photo Finish Smooth & Blur Primer (gel trasparente che leviga la pelle e sfuma i difetti), Photo Finish Primer Water (spray 3 in 1 per preparare, idratare e rinfrescare la pelle) e Photo Finish Primerizer (primer + moisturizer che idrata la pelle per 24 ore).
Divine Shine Gloss Angeles Trio Set
Illumina le labbra con il trio di Gloss Angeles:  Mercurial Mauve (Limited Edition Berry Shimmer), Shimmer Nova (Limited Edition Champagne Shimmer) e Beachy Keen (Deep Nude Cream).
La formula confortevole e idratante si adatta uniformemente a colori chiari e medi, regalando volume alle vostre labbra. Contiene acido ialuronico per idratarle, vitamina E per nutrirle e mantenerle morbide.
Start Power Face + Eye Shadow Palette
Una palette ricca di colori per un look che non conosce confini. Composta da 20 ombretti matte e shimmer, blush, illuminanti e bronzer in tonalità neutre e spaziali ti accompagna ovunque, tra mille impegni quotidiani e mega feste serali.
Lash + Liner Set
Metti al centro gli occhi con un trio spaziale: Photo Finish Lash Primer, per incrementare l'incurvatura, aumentare il volume e aggiungere maggior durata e Full Exposure Mascara che crea volume per ciglia senza grumi o sbavature. Infine, fissa il look con Always On Gel Liner, per un colore intenso che dura tutta la notte.
Photo Finish Primer Water Duo Sets
Prepara la pelle per il trucco lasciandola ultra-morbida.
Formulate con elettroliti rivitalizzanti per risvegliare la pelle e ripristinare l'idratazione, queste acque leggermente profumate sono perfette per un immediato booster idratante.
Disponibili in due set ispirati agli elementi naturali: Fuoco (Pepe Nero + Cannella) e Aria (Geranio + Melone). Terra (Legno di Cedro + Vetiver) e Acqua (Sale Marino + Limone).
Artist Brush Set
Cinque pennelli di alta qualità che rispettano gli standard vegan e cruelty free.
Ogni set include: Blurring Foundation Brush (applica, picchietta e sfuma il fondotinta con un effetto uniforme e compatto), Precise Highlighting Brush (una combinazione di setole corte e lunghe che lavorano insieme per applicare e sfumare l'illuminante), Lip Brush (pennello piatto e compatto per definire, sfumare e sovrapporre facilmente il colore sulle labbra), Shadow Blending Brush (per applicare sfumature perfette con ogni ombretto) e Smoky Shadow Brush (sagomato per sfumare gli ombretti e eyeliner cremosi).
Planetary Cheek Palette
Tre nuances per gli zigomi che faranno brillare la vostra pelle più delle stelle.
Le tonalità: Highlighter in Sugar & Space (Warm Pink Sparkle, White Pink Duo Chrome e Warm Rose Gold Shimmer), Highlighter in Heart & Solar (Champange Shimmer, Warm Bronze and Gold Sparkle) e il Blush in Planet Out (Coral, Light Pink and Watermelon).
La formula vellutata si fonde con la pelle senza enfatizzare la texture irregolare. Aggiungi poi dimensione e definizione con i due illuminanti e il blush.
Alessandra Borgonovo, Dicembre 2019